Pinterest For YMCAs 101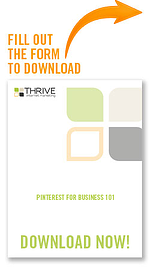 Pinterest is a growing medium in social media. As social media becomes more important in the marketing world, small and big businesses alike need to understand how Pinterest works. There is only so much that Facebook and Twitter can do for your business. Check out this Pinterest For YMCAs 101 whitepaper from Thrive!
In this whitepaper you will learn:
- How to create a Pinterest account
- What a pin is
- How to pin properly
- How to market your YMCA to the Pinterest world
There are a great deal of "pin"teresting things going on in the marketing world. Join the world of pins and start marketing your YMCA in a whole new way!