March 12, 2010 changes the course of history for Thrive Internet Marketing. But it took us a few years to notice.
Now that Thrive has built and launched +50 YMCA websites, I have decided that we will continue to find ways to give back to the YMCA family. Over coming weeks and months, I will share many of the best practices we have uncovered working with the YMCA community. I call this project the YMCA Executive Thought Leadership. Hopefully you will find value in these communications and will contribute with your own thoughts and ideas.
Thrive has been building websites for local businesses since the 1990's. We have worked with restaurants, governmental agencies, mystery shoppers, health care providers, ecommerce businesses, The Arts Commision and The Opera. Hundreds of successful website launches. Toledo.com is one of our businesses.
But an interesting thing happened on March 12th, 2010. An event that changed the direction of Thrive. The editor of Toledo.com, John Eikost, came to me with an interesting proposition. You see, John is a lifelong member of the Toledo YMCA and a member of their Marketing Committee. The Y needed a new website and since Thrive specialized in building websites, perhaps there was something we could do to help.
So I promised I would look into it and see that we could do.
If we decide to tackle a project, we will only do it if we have the opportunity to do world class work. So we met with the leadership of the Toledo YMCA and started asking questions. Six months later YMCAToledo.org launched.
We were happy to contribute to our local YMCA and support the great work they are doing. It helps to give back to your community. And we went back to work.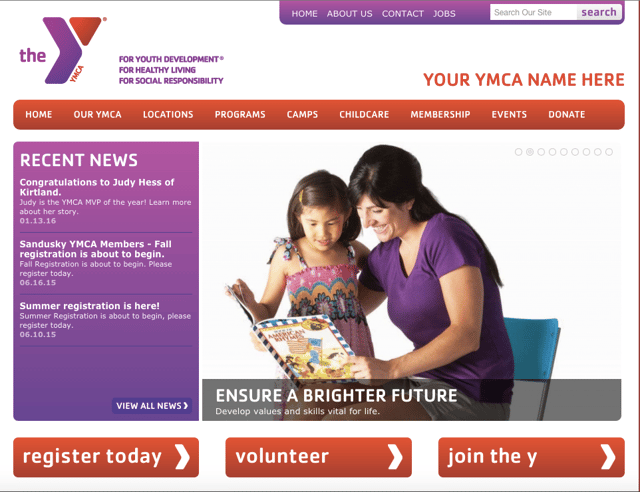 But a funny thing happened. Greg, the Director of Marketing we had worked so closely with in Toledo, moved to another YMCA, this time in New Jersey. And our phone rang - "I need a new website. Can you use the website you built in Toledo as a basis for a new website for me in New Jersey?"
The answer was yes. Soon other YMCAs across the country were asking if we could help them with their website as well. It appeared that websites for local YMCAs was going to be a full time business, so we launched ySites. A program designed to build local YMCA's a world class, brand compliant website. Fast.
In support of this new venture, I have assembled the yTeam - a blue ribbon group of digital developers, graphic artists, customer support and digital marketers to solely support local YMCAs in their digital efforts. It turns out this was a smart business bdecision as we have now launched more than 50 local YMCA websites.
We welcome the opportunity to help you solve some of your digital challenges.
"Imagination is the beginning of creation. You imagine what you desire, you will what you imagine and at last you create what you will." - George Bernard Shaw