Pinterest posted on their blog on October 9th that they are starting to test promoted pins with a few businesses. Pinterest's blog mentioned that promoted pins are in test mode and will look something like this: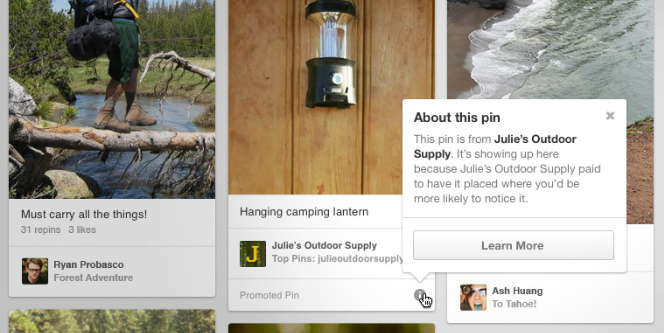 So what is in store for Pinterest's future? There has been talk of Pinterest adding promoted pins to their pins for some time now. So far from the blog, Ben Silberman the CEO of Pinterest, has said the promoted pins will be:
catered to your style, interest, taste and liking
not flashy or pop up style
will show clearly at the bottom of the pin if it was paid for or not
modified based on user feedback
So far this seems like a great start for Pinterest.
How do you feel about Pinterest entering the "paid" world? If they stick with the non flashy promoted pins and whether it is paid or not isn't rubbed in your face, this could be a very good avenue for Pinterest to go down. Promoted pins based on interests and categories could be very helpful for some businesses to gain recognition quicker than they would by just letting their pins run virally.